When we buy blood parrot cichlids, they are mostly bright orange or red – thus the name "Blood Parrot" – so it is natural to think they will always stay that way. But all cichlids commonly undergo color changes during their lives so it is that ours will as well. Some color changes are permanent, and some are temporary.
The permanent changes include those that happen as they mature. Young parrot cichlids begin their lives with drab gray and black stripes. The dull color may serve as camouflage to keep them from being eaten while they are small.
Reading: Why is my parrot fish turning black
By the time they are old enough to be sent to the pet store, they usually have acquired the bright colors we are most familiar with. But not always! You may find some like "Tonky" and "Twinky," shown below, who came from Petco with their natural juvenile coloring.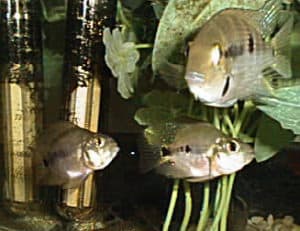 You can just see the faint pink beginning to appear on their bellies as they swim under their similarly colored tankmate "Gus," the Geophagus Cichlid.
Also Read: Why does my puppy snore so loud
As they mature and experience hormonal, dietary and environmental changes, some of the dark coloring may come back in patches or spots. It is also possible that our fish are treated with hormones to force the color change early, and that might be part of the problem.
Help! My Parrot Cichlid has Black Spots!
When black spots appear, it is hard not to panic. It looks like they are getting black measles! Spots may even appear across their eyes, making them look a bit like pirates.The spots are not raised or inflamed. I've never heard of a fish dying from black spots, nor of the spots progressing to sores or lesions, or illness. It appears rather that something is flipping a genetic switch and turning some of their chromatophores back to black.
Possible causes for black spots
In my experience, black spots occur to one or two of the fish in the tank, not all of them, so I'm not convinced it has to do with water quality, although tank water is rarely perfect, so it may have something to do with it.
According to published research, the pigment vesicles of cichlids are under neural or hormonal control, and can be used in signalling mood or reproductive state. Color changes can also communicate submission to a dominant fish, to reduce aggression. A subdominant fish may become darker, and it seems this may help it survive where a fish that lacks the ability to change color – for example a white convict cichlid – may not.
My older parrot cichlids each went through a few rounds of black spots, sometimes as much as a year apart, then they stopped getting them once they were 5 or 6 years old. This also indicates that the cause is hormonal or the result of social stress. The black appears to follow the pattern of the old stripes in a fragmentary manner which indicates to me that some of the old chromatophores are being activated, rather than an overlay of fungus or other infection.
Another possibility is that if their color was forced on them early, once the hormones wear off they partially revert to the darker colors. It could also be that diet has something to do with it, but I suspect that a diet lacking in color promoting nutrients would cause them to be pale orange or white rather than black speckled.
How to clear up black spots
Also Read: Can dogs have flax seed
Mostly, don't panic! Take a deep breath. If you think your water quality could be improved, well, that it surely never hurts to do a water change. Make sure the fish have plenty of hiding places and a big enough tank to reduce social stress.
Then wait, and the black spots will generally fade after a few weeks.
____________
Sources: Maan, Martine E., and Kristina M. Sefc. "Colour Variation in Cichlid Fish: Developmental Mechanisms, Selective Pressures and Evolutionary Consequences." Seminars in Cell & Developmental Biology 24.6-7 (2013): 516-528. PMC. Web. 15 Sept. 2018.
Also Read: Dog stung by bee can t find stinger
Also Read: Dog stung by bee can t find stinger
Also read: Perennial shade plants deer resistant