This creamy pasta with bacon and peas is an easy one-pan dinner recipe made with simple pantry ingredients. Flavorful, delicious, and perfect for busy weeknights!
Easy Bacon Pea Pasta
If you're craving comfort food then you are going to love this bacon and pea pasta. Quick and delicious, it's similar in taste to classic Italian carbonara – minus the egg.
Reading: Pasta with bacon and peas
Also Read: Ice cream lip gloss containers
Made with spaghetti noodles tossed in a light parmesan cream sauce and filled with loads of bacon and peas, this easy bacon and pea pasta is a true winner and family favorite.
Perfect any time of year, rain or shine, I love serving this recipe with a simple side salad or buttery garlic bread.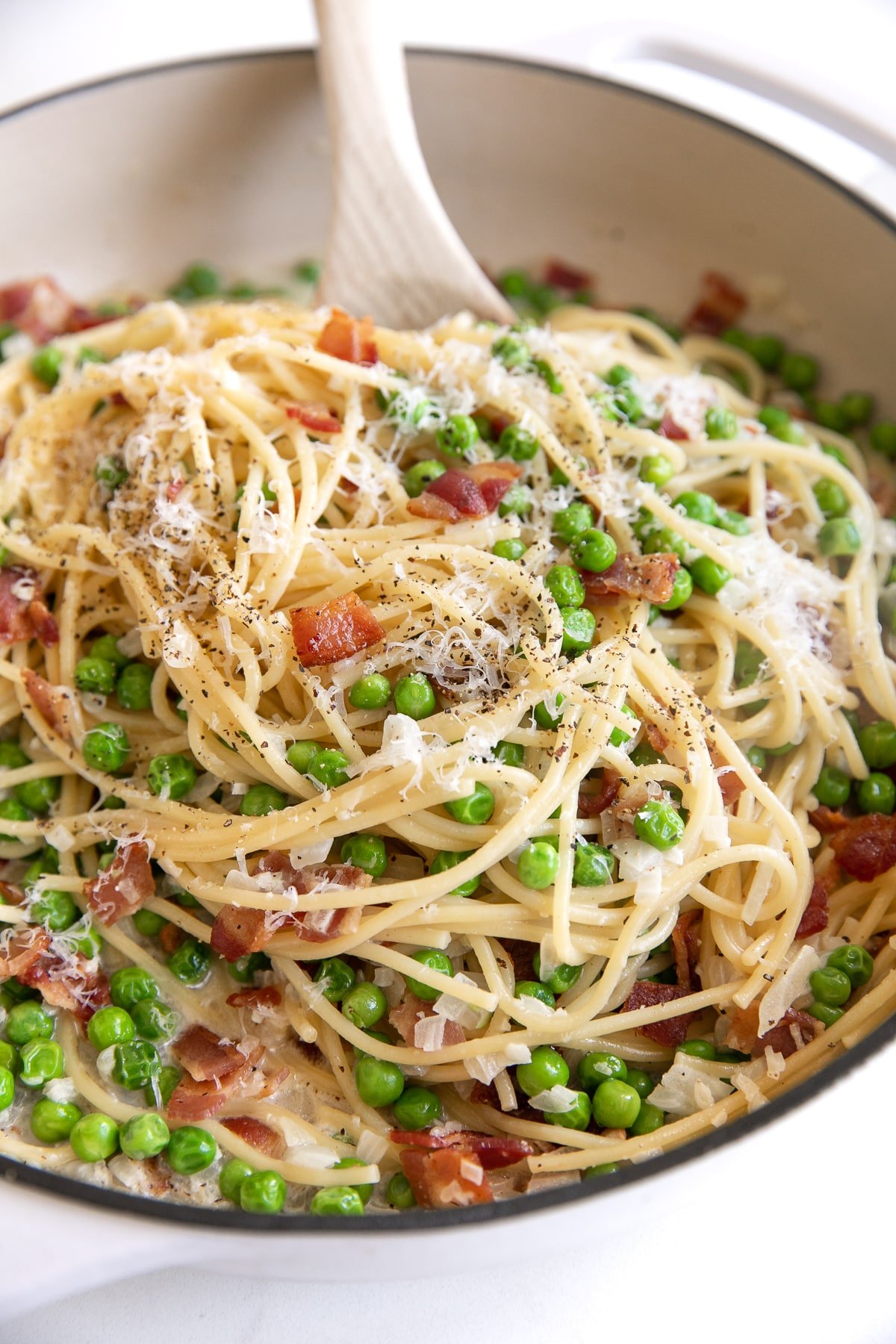 How to Make Pasta with Bacon and Peas
Start by bringing a large pot of salted water to a boil. The plan is to cook the bacon and make the sauce while the water comes to a boil and the pasta is cooking.
Grab a large pan, skillet, or Dutch oven to cook everything in.
Cook the bacon until it is fully cooked, crispy, and fat is rendered. Remove the bacon from the pan, but leave rendered bacon grease in the pot.
Cook the onion in the bacon grease until softened, then add the garlic.
Stir in the chicken broth and the frozen (or fresh) peas. Cook for a few minutes before adding the heavy cream.
Bring to a gentle simmer (avoid boiling heavy cream), and stir in half of the grated parmesan cheese.
Add the cooked bacon and spaghetti noodles to the sauce and gently toss to combine.
Season with salt and black pepper, to taste. Add the remaining parmesan cheese over the top.
Recipe Tips and Tricks
I used spaghetti to make this recipe, but feel free to use any pasta noodle including linguine, fettuccine, or angel hair or small to medium-size pasta shape such as bowtie, shells, rotini, fusilli, rigatoni, etc.
Use freshly grated parmesan cheese – not the powdered stuff or pre-shredded kind that comes in a bag. The flavor will be better overall and there won't be any weird clumping.
Expect to add a little bit of liquid (cream, chicken broth, etc) before reheating leftovers. Heat for 30 seconds in the microwave, gently stir and continue to heat until the desired temperature is reached.
Thick-cut pork bacon will give the best flavor. Turkey bacon or pre-cooked bacon bits is not recommended. You may also swap the bacon with prosciutto or pancetta, if desired.
Also Read: Fish that is high in mercury
Looking for more delicious pasta recipes? Try these reader favorites:
Roasted Red Pepper Pasta with Chicken
Creamy Lemon Chicken Pasta
Creamy Penne Pasta Recipe
Ground Turkey Pasta Recipe
Easy Bacon Broccoli Pasta Recipe
Pasta Primavera Recipe
Did you try this creamy pasta with bacon and peas?
Tell me about it in the comments below! I always love to hear your thoughts. And tag me #theforkedspoon on Instagram if you've made any of my recipes, I always love to see what you're cooking in the kitchen.
Also Read: Fast food open christmas day