New Genshin Influence 2.2 leaks have lastly revealed the 4-star characters and all weapons for Hu Tao's banner.
Her rerun launch date has been identified for some time now. It's going to begin on November 2, 2021, and finish on November 23, 2021. Likewise, followers already knew that Thoma can be one of many 4-star characters on the banner. He is a model new 4-star Pyro Polearm person, so miHoYo has marketed his presence up to now.
Reading: Hu tao banner 2.2 4 star
What's new is that leakers have unveiled the remaining particulars concerning the Genshin Influence 2.2 banners. The beforehand unknown 4-star characters on Hu Tao's banner are Diona and Sayu.
Additionally, Employees of Homa and Elegy for the Finish will return within the upcoming weapon banner.
Leaks reveal Genshin Influence 2.2 Hu Tao banner's launch date, 4-stars, and weapons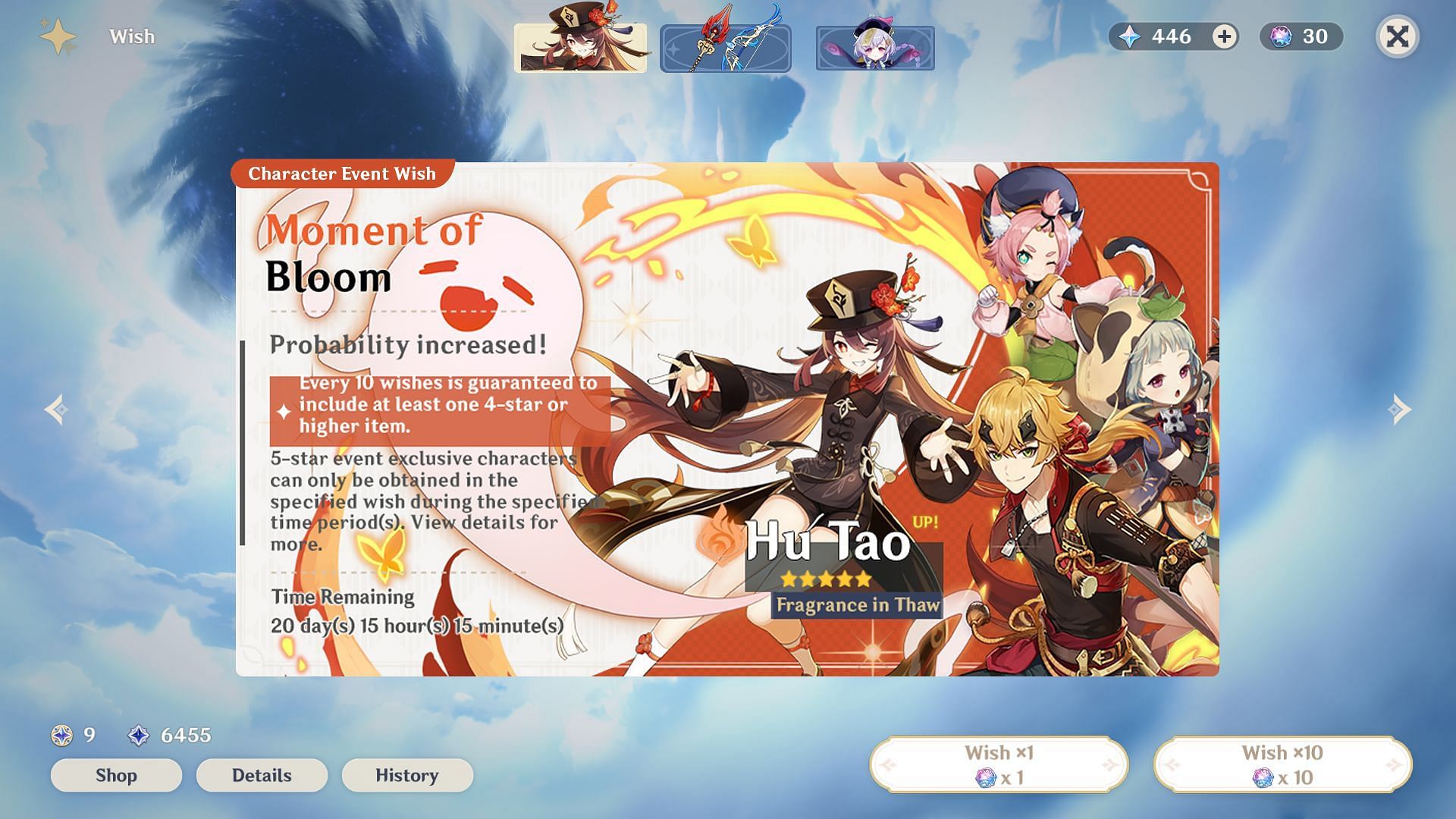 Hu Tao's rerun's launch date is on November 2, 2021, which ends on November 23, 2021. The above picture shows the 4-star characters that may accompany her. Take into account that the "Time Remaining" part is inaccurate. In any other case, this Genshin Influence 2.2 leak is correct.
Hu Tao is a 5-star character, which means that Thoma, Sayu, and Diona are the 4-star characters. Curiously, Sayu and Diona have been final featured collectively on Yoimiya's banner. As an alternative of Xinyan, Vacationers can get Thoma (who can be a 4-star Pyro shielder).
Also Read: How to turn on tinder notifications
Hu Tao's final banner began on March 3, 2021. It has been almost eight months since then, which is notable as Hu Tao is simply obtainable on these limited-time banners. After Genshin Influence 2.2, it is unknown how lengthy gamers must wait to see her once more.
Thoma will debut on this Genshin Influence 2.2 banner. As he's a 4-star character, he'll nonetheless be obtainable in future Needs. Nevertheless, he has a boosted price in Hu Tao's rerun, permitting gamers to construct his Constellations simpler in the event that they roll for him.
New weapon banner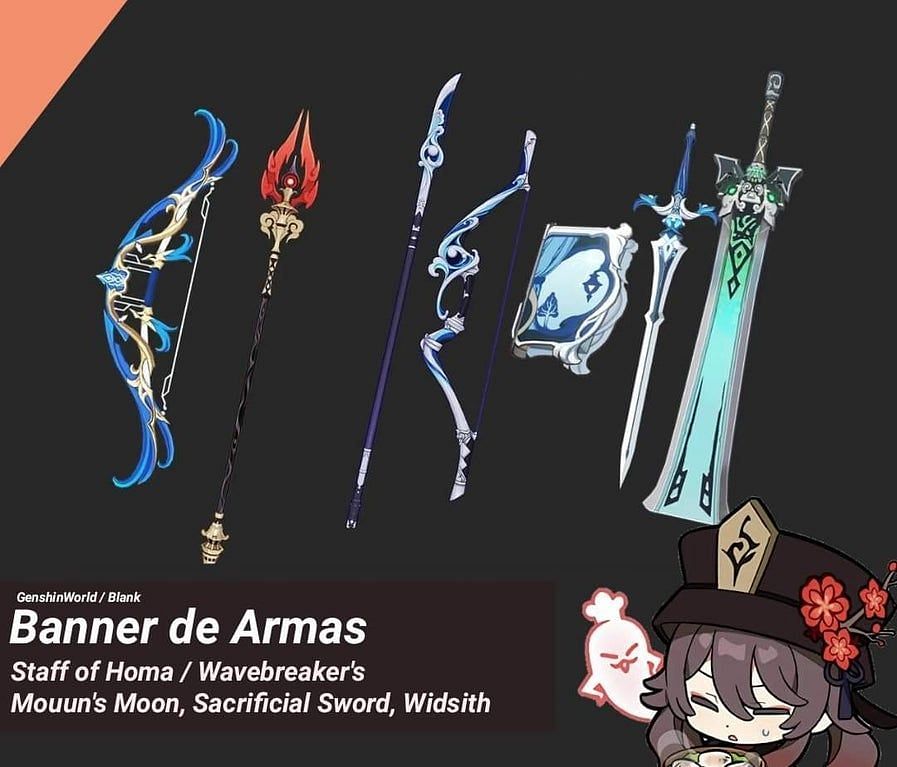 Genshin Influence 2.2 may also characteristic one other Epitome Invocation. The 5-star weapons are Employees of Homa and Elegy for the Finish. The featured 4-star weapons within the picture above, from left to proper, are:
Wavebreaker's Fin
Mounn's Moon
The Widsith
Sacrificial Sword
Rainslasher
Employees of Homa was final obtainable on a weapon banner that ranged from February 23, 2021, to March 16, 2021. Elegy for the Finish final appeared on the next weapon banner, which started on March 7, 2021, and ended on April 6, 2021.
Each 5-star weapons have solely been featured on an Epitome Invocation as soon as. Their rerun will occur within the second half of Genshin Influence 2.2 alongside Hu Tao's banner.
The 5-star weapons
Employees of Homa is a 5-star Polearm with a secondary stat of CRIT DMG that goes as much as 66.2%. It will possibly increase the person's HP by 20/25/30/35/40% and improve their ATK by 0.8/1/1.2/1.4/1.6% of their Max HP. If their HP is lower than 50%, they get one other increase of 1/1.2/1.4/1.6/1.8%.
Also Read: Garmin vivoactive 4 vs garmin vivofit
Elegy for the Finish is a 5-star Bow, with a secondary stat of Power Recharge going as much as 55.1%. It will increase the person's Elemental Mastery by 60/75/90/105/120. They achieve a Sigil of Remembrance as soon as each 0.2 seconds (even when the person is not on the sphere).
If the person has 4 stacks, they are going to devour it for an extra impact for the complete celebration that lasts for 12 seconds. This impact boosts Elemental Mastery by 100/125/150/175/200 and will increase ATK by 20/25/30/35/40%.
The person can also't get any extra Sigil of Remembrance stacks for 20 seconds afterward.
Word: Leaks are topic to vary.
'; }); pollOptions.innerHTML = pollOptionsDom; pollCount.innerHTML = totalVotes + ' votes up to now'; } operate updatePollCountOnAnswer(selectedOption) { var pollData = {"ID":1902,"question":"Which banner do you prefer?","option1″:"Hu Tao's","option2″:"The Weapon banner","option1_count":213,"option2_count":61,"created_on":"2021-10-28 23:41:31″,"theme":"default","sponsored_link":null}; renderPollWidget(pollData, selectedOption, true); } operate renderPollWidget(pollData, selectedOption, isAnswered) { if (!pollData) return; pollData.option1_count = pollData.option1_count || 0; pollData.option2_count = pollData.option2_count || 0; if (isAnswered) { if (selectedOption == "option1") pollData.option1_count += 1; if (selectedOption == "option2") pollData.option2_count += 1; } var totalVotes = Quantity(pollData.option1_count + pollData.option2_count); if (totalVotes && !Quantity.isNaN(totalVotes)) { var option1Percent = pollData.option1_count / totalVotes * 100; var option2Percent = pollData.option2_count / totalVotes * 100; var optionPercentages = [option1Percent, option2Percent]; var pollOptions = $("#poll-options"); var pollCount = $("#poll-count"); var pollOptionsDom = "; ['option1', 'option2'].forEach(operate (possibility, index) { var clickHandler = 'onclick="answerPoll(event, " + option + ")"'; var optionClass = ['poll-option']; if (selectedOption) { optionClass.push('poll-option-answered'); clickHandler = "; } if (selectedOption === possibility) { optionClass.push('poll-option-selected'); } pollOptionsDom += "; if (selectedOption) { pollOptionsDom += "; } pollOptionsDom += '
' + pollData[option] + '
'; if (selectedOption) { pollOptionsDom += '
' + Math.spherical(optionPercentages[index]) + '%
Also Read: When was disney plus launched
'; } pollOptionsDom += "; }); pollOptions.innerHTML = pollOptionsDom; pollCount.innerHTML = totalVotes + ' votes up to now'; if (totalVotes > 10) { pollCount.classList.take away("hidden"); } } } operate answerPoll(e, selectedOption) { e.preventDefault(); updatePollCountOnAnswer(selectedOption); gtag('occasion', 'click on', { 'event_category': 'Article Poll_20Aug2021', 'event_label': selectedOption.exchange("option", "Option ") }); var url = 'https://a-gotham.sportskeeda.com/polls/1902/response'; var information = { "poll_type": "article", "option": selectedOption } pureJSAjaxPost(url, information, onPollResponseSuccess.bind(this, selectedOption), onPollResponseFail.bind(this, selectedOption), null, false); } operate trackSponsoredLinkClick(e) { var pollTheme = "default"; gtag('occasion', 'click on', { 'event_category': 'PollSponsoredLink', 'event_label': pollTheme }); }