Planting nectarine seeds – or pits – can produce excellent fruit. Here are step-by-step instructions on how to grow a nectarine tree from seed.
And be sure to consider some of these other fruit trees for your backyard garden!
Reading: How to grow a nectarine seed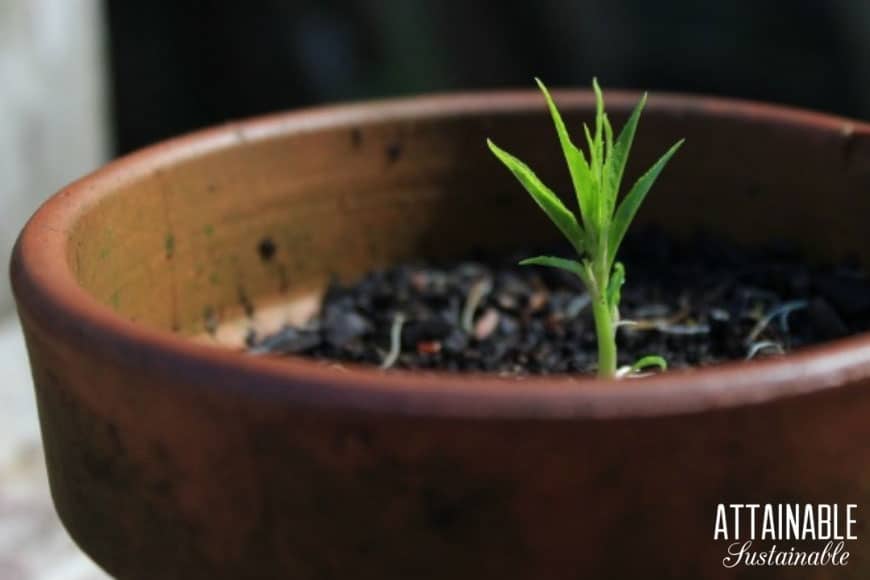 Growing nectarine trees from seed
JUMP TO:
Experimenting with growing nectarine trees from seed
Chilling the seeds
Planting the nectarine seeds
When will the tree leaf out?
Planting peaches and other stone fruit from seed
Step-by-step instructions: How to grow nectarines from seed
My folks still live on the "old home place" that originally belonged to my grandparents. The property is home to a few amazing nectarine trees. They stay small — 12 feet tall at best — and put out amazingly flavored nectarines. The fruit is about 2″ in diameter, with white flesh and rosy cheeks.
Somewhere along the line they became known as "Grandma nectarines" since nobody knew the actual variety of this stone fruit tree.
Those nectarine trees produced bushels of fruit; invariably some would drop, leaving nectarines to rot through the summer. By autumn, the ground beneath those nectarine trees was scattered with wrinkled nectarine pits. But the biggest surprise came when springtime rolled around and those pits unfurled green growth.
Mother Nature knows how to grow a nectarine tree from seed. Surely I could replicate that? Turns out, planting nectarine seeds isn't that difficult.
Planting nectarine seeds
Over the years I've experimented with transplanting those sprouts in various locations — some on the original property, some on land 300 miles east. And every single sprout survived and thrived and produced the same great quality nectarines that I grew up with on the same small, sturdy tree.
Also Read: House plants safe for dogs
Experimenter that I am, it stands to reason that if given the chance I'd like to experiment again, this time 2,500 west of the original tree. I managed to acquire a half dozen pits from the original Grandma nectarine for experimental purposes and I was determined to grow a nectarine tree from seed.
The growing conditions being so different here, I didn't trust that just throwing the pits on the ground would result in a tree, so I opted to sprout them.
How to grow a nectarine tree from seed:
I let my nectarine pits dry at room temperature for about a month before attempting to grow nectarine trees from seed. It's what worked for me, but I don't know that it's a necessary step. (If you find something else that works well, please do leave a comment and let us know!)
Now, get out the hammer. Laying the pits on their "sharp" edge, I carefully tapped them with a hammer to release the almond-like seed without damaging it. Kind of like cracking a tough nut.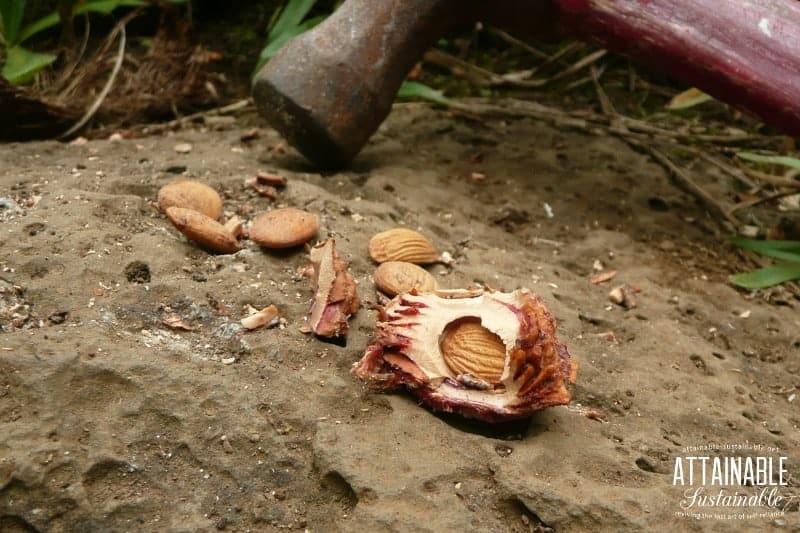 I filled a jar with potting soil, adding just a bit of water to dampen it, and then added the seeds. Lid on, I gently tumbled them around a bit and tucked them in the back of the fridge. This was in August at the height of nectarine season.
Stone fruit seeds require exposure to cool temperatures in order to sprout.
I first noticed rootlets until December — nearly four months in the fridge. The rootlet you see below is about two inches long and seemed to be just screaming, "plant me!" And so I did.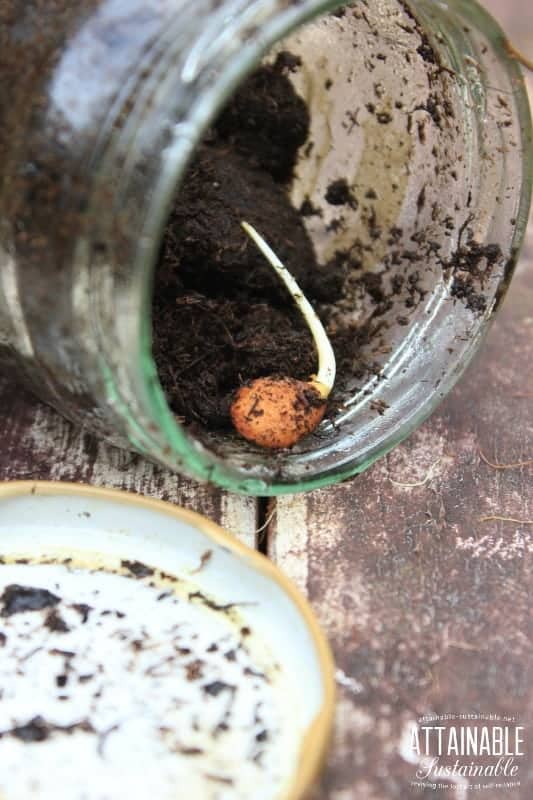 Planting nectarine seeds
I pulled out three of the six seeds—the ones with the strongest rootlets—and planted them in individual pots. I covered with about an inch and a half of good soil, watered them well, and left them outside. The remaining pits stayed in the fridge for a bit more chilling out.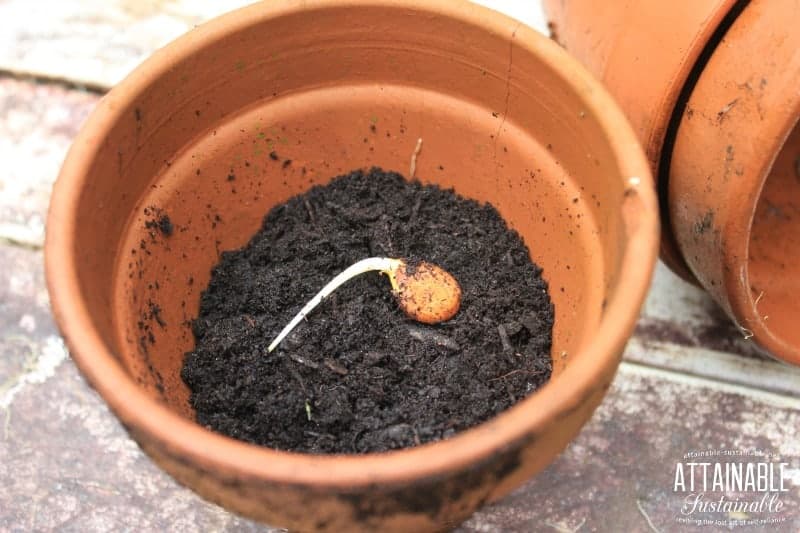 While it took the seeds to nearly four months to create that rootlet, the green sprouts of my little nectarine tree came much faster!
How to grow nectarines from seed
Also Read: Citrus tree leaves identification chart
In just two weeks that little nectarine seed I'd planted started sprouting and I had my own little stone fruit tree. Experience has shown me that these particular fruit trees grow at a steady clip, and so far that seems to true with these seedlings. Every time I step outside to check them, the little tree is just a bit taller.
Can I tell you just how excited I am about this?? I've managed to sprout a little piece of my childhood, right here in a pot!
Will these trees bear fruit here, in our more tropical Hawaii climate, with fewer chill hours? Who's to say? But for now, I'm thrilled to have had success in starting these special stone fruit from seeds. Time will tell if we'll actually get to taste the fruits of that experiment! (I cannot wait to get back to canning nectarines for my pantry!)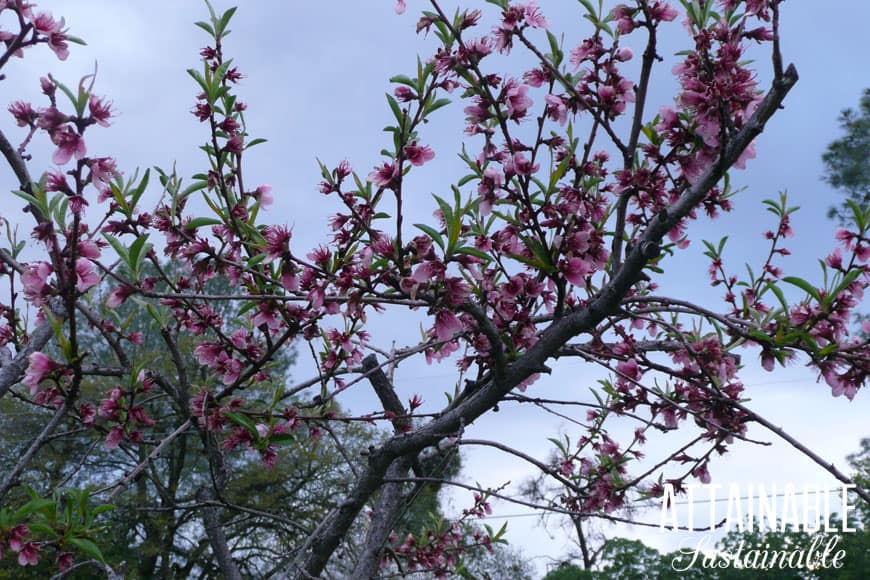 Planting peach pits and other stone fruit
While I started by planting nectarine seeds to sprout my Grandma's nectarine tree, this method works with other stone fruit varieties as well. I've been successful in starting several plum trees this way, too. Peaches, plums, and apricots are all worth trying. This is a plum pit sprouting: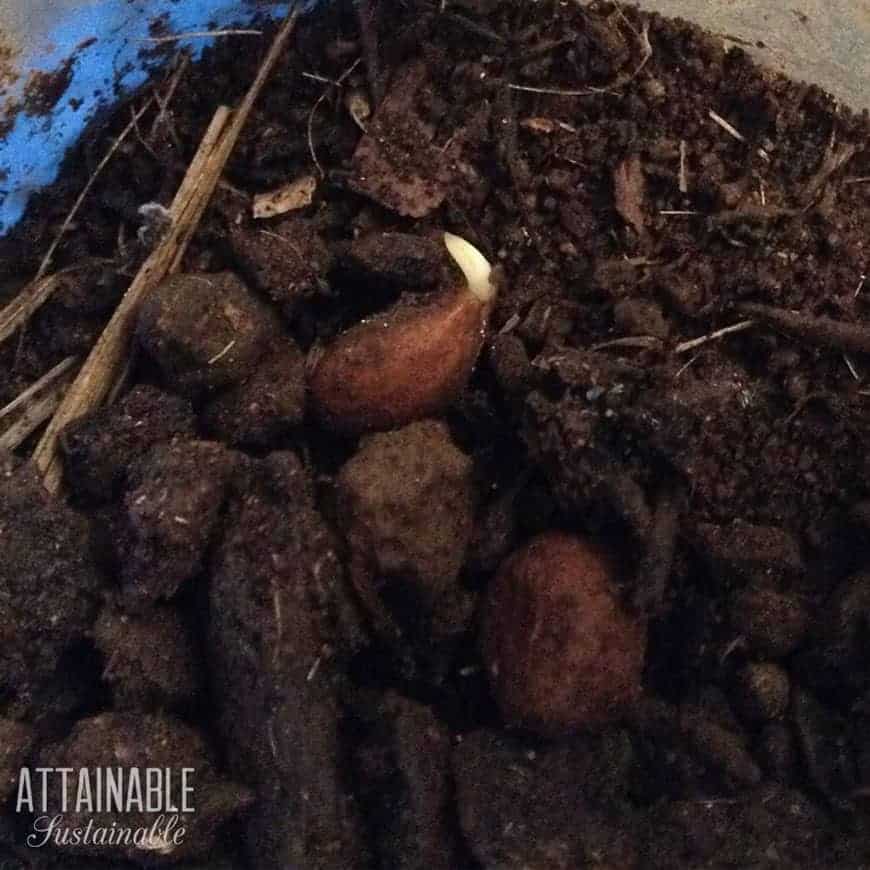 Related: Bare Root Fruit Trees to Start Your Home Orchard
Will these nectarine trees grow true to seed? It's hard to say, but my understanding is that unlike some fruit — apples and pears, say — stone fruit trees are more likely to produce offspring with the same flavor and characteristics.
The nectarine trees I've planted from seed have all produced fruit in their third year. It certainly can't hurt to try!
Pin it!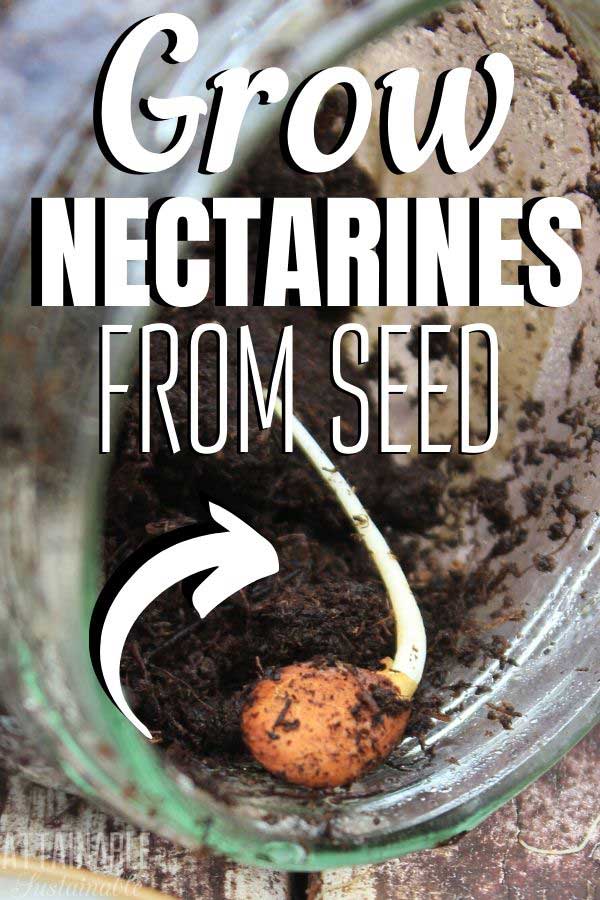 This post was originally published in January, 2015; this post has been updated.
Click to save or share!
Also Read: House plants with big leaves